Stony Brook University has a few really interesting art exhibits up that relate to projects we do, check them out below: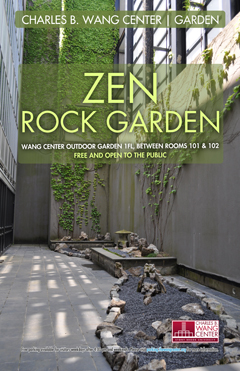 Long-Term Installation
Charles B. Wang Center Outdoor Garden
Located on the first floor, in between the meeting rooms 101 and 102 at the Charles B. Wang Center, this Japanese rock garden (枯山水 karesansui) was created by Gerard Senese and his wife Hiroko Uraga-Senese as a tribute to the appreciation of Japanese culture. Japanese gardens are rich with symbolism, and they are usually created with certain meanings and wishes in mind. The Wang Center's new Zen garden features symbols of Buddhist paradises with a tortoise islet (kame-jima) and a crane islet (tsuru-jima). Made with rocks, the tortoise symbolizes prosperity and the crane symbolizes health and good luck.
Space Drawing
by Sun K. Kwak
Long-Term Installation
Charles B. Wang Center Theatre Gallery
New York-based Korean American artist Sun K. Kwak's canvas is architectural space and her primary medium is black masking tape. Kwak achieves the effect painterly strokes by tearing away tape from the surfaces of architectural spaces. Her sprawling freehand strokes weave designs over surfaces to dramatic effect. Kwak creates a site-specific installation at the Charles B. Wang Center by creating lines that liberate the space, and in doing so, transforms the space into a new pictorial reality.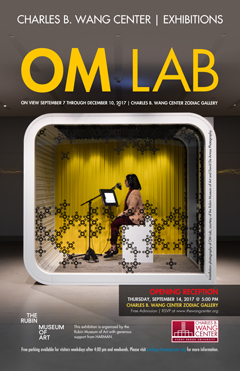 OM Lab
September 7 through December 10, 2017
Charles B. Wang Center Zodiac Gallery
"OM" is a sacred syllable, central to many Asian religious traditions for more than three thousand years. The sound has been called "elemental" and "universal," often serving as a preface to prayers and chants. OM Lab is a participatory space where visitors can step into a recording booth and offer up their own chant of this ancient Sanskrit mantra. Visitors will learn about the enduring significance of this sacred syllable and become a part of its storied history by adding their voices to a collective chant. Hear 10,000 previously collected recordings in the Rubin Museum of Art's exhibition The World Is Sound (June 16, 2017 - January 8, 2018). Receive 50% off admission when you mention "Stony Brook" at the Rubin Museum.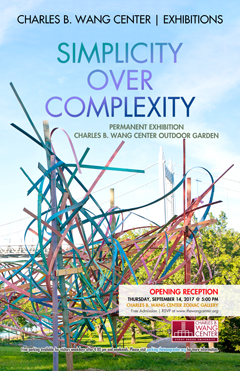 Simplicity Over Complexity
Long-Term Installation
Charles B. Wang Center Outdoor Garden
Brooklyn-based Korean American artist Jongil Ma revives the Charles B. Wang Center's outdoor garden with architecturally woven sculptures, using varying lengths and types of thin wooden strips, both in their raw state and dyed in color. Three large, site-specific installations balance the positive with the negative, tranquility with tension, and stillness with movement. The installations interact with the Wang Center's architecture and spatial dynamics, transforming the garden through a multiplicity of viewing possibilities.